How to Protect Floor Around Toilet
The floor around the toilet is an important part of the bathroom. It acts as a barrier to protect your toilet from the germs and stains that can be transferred from other house areas.
But it's not always easy to keep it clean, especially if you don't have a high-quality floor cleaner on hand. This useful guide will help you protect the floor around the toilet and make sure your floor remains in great condition for years to come.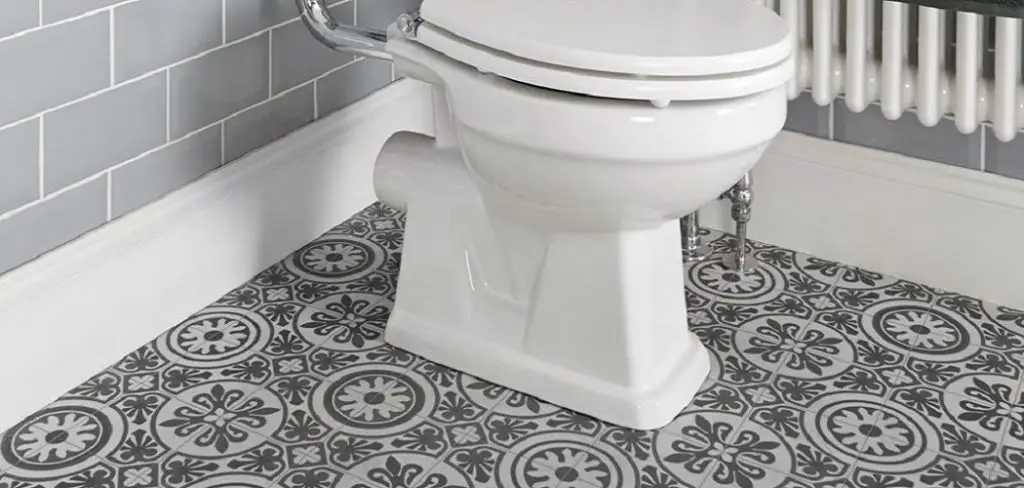 Explain Methods to Protect Floor Around your Toilet
Method 1: Use Toilet Floor Mat
It's always helpful to have a few spare toilet floor mats to use as needed around the bathroom. Toilet Floor Protectors are also recommended to avoid damage from bumps and cracks in the tile, grout, or other surfaces.
Toilet Floor Protectors are a quick and easy solution to offer protection to the areas where you'd normally see tears or damage. The market price (average) for the toilet floor mat is between $10 and $15 (single piece).
Pros
The Toilet mat covers floor tile, marble, granite, terrazzo, and wood floor surfaces.
The non-Slip, Non-Absorbent foam waffle back will not be able to absorb moisture.
This is not a cardboard-backed mat that is used to absorb moisture.
Prevent slipping
Stop odors at the stop
Cons
It is best to use between 45 to 60 days (as single-use) depending on quality. 
(Source: https://www.parish-supply.com/toilet-floor-mat.aspx)
Method 2: Use Toilet Base Plate
Normally, the good idea is to use the toilet's base plate as a protective barrier between the floor. However, this cannot be easy without special tools and techniques.
Floor Protectors are not only good to eliminate stains but also to protect the floor from damage that may result in cracks or holes when tracked through it because of your weight, pet's dirt and waste, baby walkers kicking around, etc.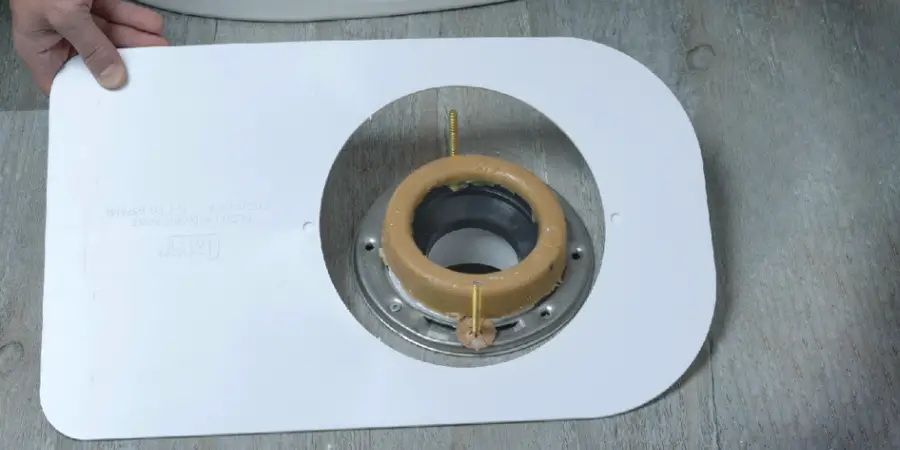 Step Guide on How to Install a Toilet Base Plate for Protect Floor Around Toilet
Step 1: Remove Toilet Seat
You should know how to remove the toilet seat. In the modern era, many toilet seats are fixed in different ways. There are many different systems, and various technics need to be applied to remove/open the toilet seat for different categories. If you are not sure, let an expert come to solve it.
Check it out to learn to remove a stripped screw from toilet seat
Step 2: Set Toilet Base Plate on the Toilet Flange
All toilet bases are not the same in size and shape. So, you should measure it carefully before purchasing a base plate. You should use a measuring tape to measure the base of your toilet accurately from one of the flange bolts to the front and the bolt to the back of the toilet.
Step 3: Install Toilet Seat Accordingly
Put your base plate over the flange and use a wax ring or a rubber seal that functions the same as a wax ring. Then set the back of your toilet on the flange bolts, and tighten them down by replacing nuts that fit for use. Lastly, connect the water line and turn your water key back on.
Check it out to learn to soften the toilet wax ring
Method 3: To Prepare The Floor for Cleaning by Floor Cleaner
The floor around the toilet must be cleaned carefully to get rid of any dirt and try to keep the toilet clean regularly. Sometimes we cannot clean properly even after using a good quality mop or other tools.
So, if necessary, you may also spray on the floor to get it wet thoroughly and then make all your efforts effectively using a scrubber to clean the floor around the toilet.
Frequently Asked Questions
Are Toilet Mats Hygienic?
Some toilets have toilet mats that cover the floor when they need to be cleaned. However, experts warn that these so-called mats are not generally hygienic, even though sometimes it is risky, because they trap germs and easily spread infections and skin rashes.
This was proved in a research study but you can change it whenever you want. According to the research study, you can use it typically for up to 45 days.
Do Wooden or Bamboo Toilet Mats Work?
Yes, wooden toilet mats work to shield the floor around your toilet from damage. Their unique baffles help them maintain a level spot on top of the ground whether you tread or not. But you need regular cleaning to avoid growing mold.
Conclusion
The floor around the toilet is a large portion of the bathroom. If you don't take care of it, it will get dirt and germs on it. Take care of the floor around the toilet so that it can be cleaned for a longer time. If you have a question about this blog post, please leave your comment below. We will be glad to answer it for you.
This is a question from Toitygo, do you have any other tips on how to protect the floor around the toilet? Leave your idea in a comment below!
You may read also – How to Remove Toilet Seat Plastic Bolts